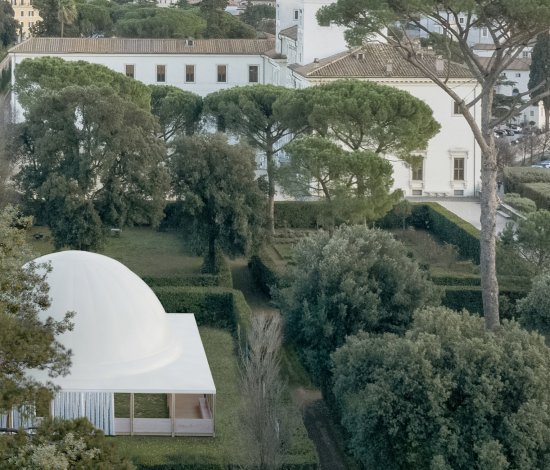 April 28th 2022
protoCampo, our new adventure with Wald.City
Bollinger+Grohmann worked with Wald.City during Proto Habitat's concept.
The idea of Proto Habitat questioned the way of living in a built environment for housing and/or work as an open reflection on the renewal of professional practices.
Frédérique Barchelard and Flavien Menu from Wald.City focused on architectural and urban innovation through their French and European experience. The pavilion combines a 100% French timber structure, which can be easily assembled and disassembled, and above all modular.
This meaningful project led us to work on our second project together called protoCAMPO. It is now starting to be installed in the garden of Académie de France à Rome - Villa Médicis following a year of co-design and construction with 44 students of Lycée polyvalent Haroun Tazieff, City of Saint-Paul-lès-Dax, France.
The Villa Médicis is located on the Pincio hill next to the famous Spanish Steps, in the heart of Rome. It will welcome, within its 8-hectare garden, this new 300 sqm timber pavilion.
protoCAMPO is an open architecture to welcome the 300 students during one week in Rome, and then it will stay in the garden of the villa for 6 months to host events, concerts, dinners, shows and some of the villa cultural events.
The structure of this fully dismountable architecture is composed of an agora made of 17mx17m locally sourced timber and sustainable material, supplemented by a 6m height inflatable dome called the cupola.
The project is part of the pedagogical programme of the residence PRO initiative that aims to bridge craftsmanship and culture by inviting the students to the project at the Villa Medici after one year of a dedicated pedagogical program.
protoCAMPO is a joint partnership between Académie de France à Rome - Villa Médicis, Région Nouvelle-Aquitaine, Campus Forêt Bois Nouvelle Aquitaine.
Bollinger+Grohmann joined the project team with its expertise in structural engineering, accompanying the agency Wald.City with the support of Rothoblaas srl, Serge Ferrari, Unikalo, Lesbats Une forêt de Solutions, Groupe THEBAULT and DITEC.
Photos : ©jeudi.wang