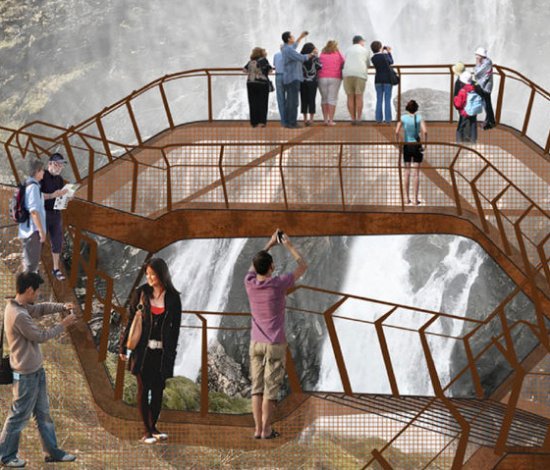 11 June 2020
WON: Overlook for Sivlefossen in Nærøydalen, Voss, Norway
We won together with the architects from Østengen & Bergo the competition for the new spectacular overlook "Sivlefossen". We were one of three offices invited to take part in the competition for a new overlook for Sivlefossen in Nærøydalen, Voss.
The waterfall is located in the Nærøyfjord nature reserve and was included in the UNESCO World Heritage List in 2005 as part of the West Norwegian fjord landscape.
Our proposal integrates itself into the topography of the landscape. The structure is well integrated and adapted to the landscape, while parts of the structure float. The platform leads the audience to a perforated, ring-shaped platform consisting of different levels of stairs, paths and benches. In this way, many people can simultaneously experience the spectacular valley, the waterfall, the sound of the falling water above the impressive landscape.
Visualisation: Østengen & Bergo