© Arriyadh Development Authority (ADA)
© Arriyadh Development Authority (ADA)
© Arriyadh Development Authority (ADA)
© AS&P Albert Speer und Partner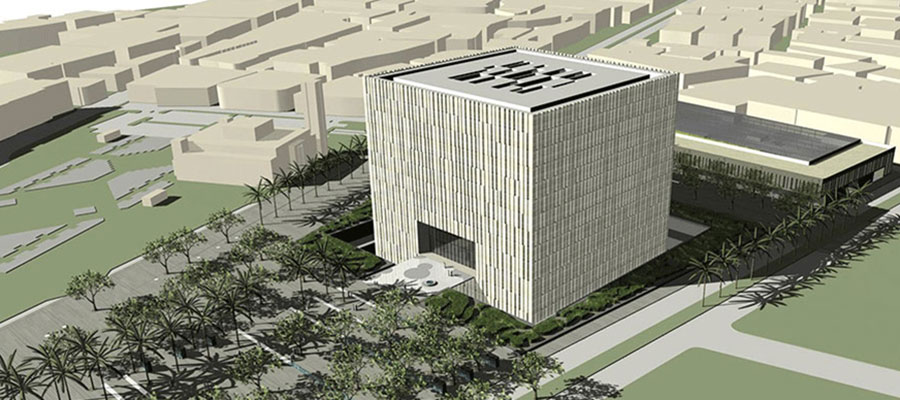 © AS&P Albert Speer und Partner
project description

A new building was being constructed directly near the most important administrative buildings in the capital of Saudi Arabia. The 44.6 meter-high cube of the Criminal Court arises from a wraparound strip of light at the base. They enhance the façade's sculptural appearance, which is intensified by the vertical structure of the façade throughout all storeys.
Moreover, the edifice's symmetry and cube shape reflect the organizational principles structuring the internal divisions and modules. All the rooms are grouped around a spacious atrium that rises the full height of the building. Strips of windows in the ceiling ensure a pleasant ambient temperature, source indirect daylight and allow the light to play along the walls inside.
façade

The façade consists of the region's typical coarse chalky sandstone panels, emphasizes the monumental thrust of the building and symbolizes the strength and authority of jurisdiction. Narrow slots with strongly recessed window elements, prevents the inside from heating up.
Data
Client:
ADA Arriyadh Development Authority
Architect:
AS&P - Albert Speer und Partner, Frankfurt, Germany
Competition: 1st prize
Planning: 2006 - 2008

GFA: 57,000 m²
Classification: Composite reinforced-concrete structure with steel roof over an atrium
Service:
Structural engineering