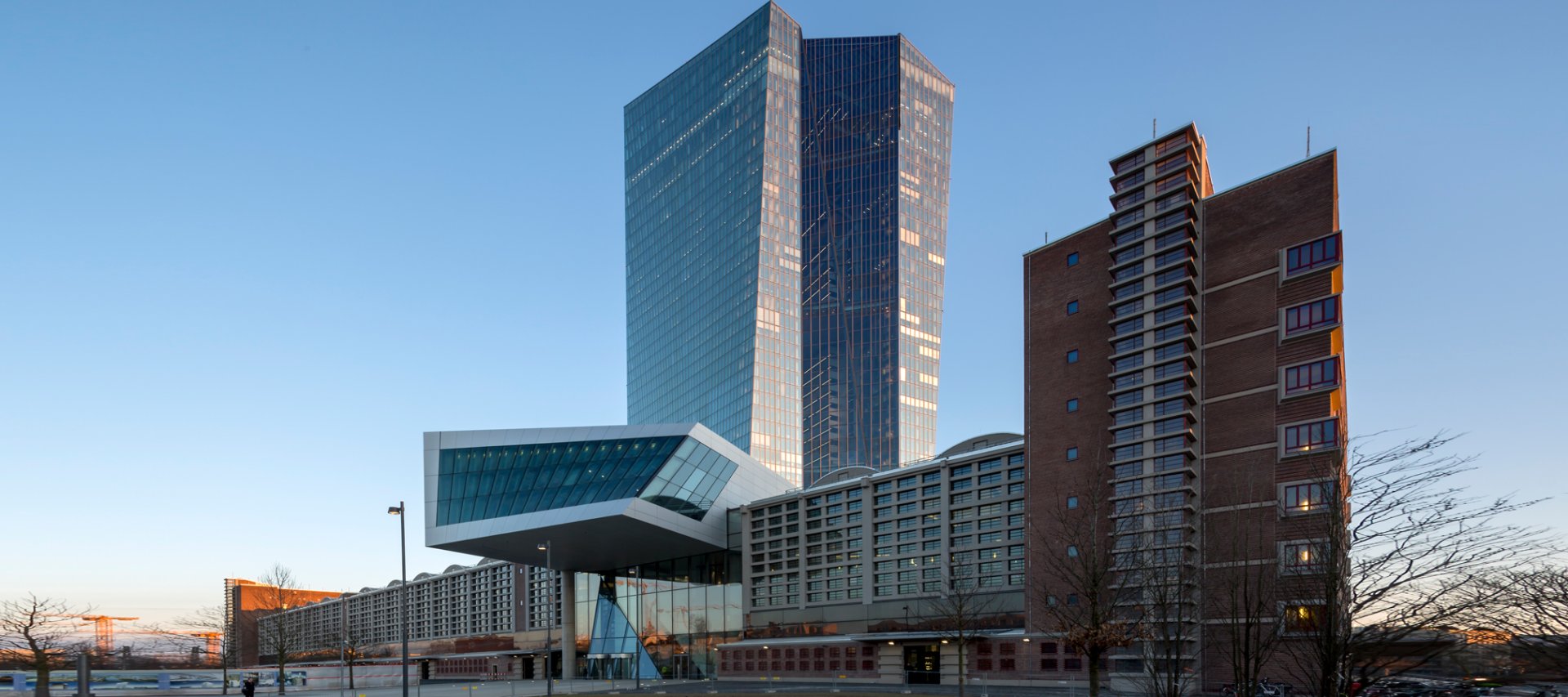 © Paul Raftery
© Paul Raftery
© Paul Raftery
© Paul Raftery
© B+G, Enrico Santifaller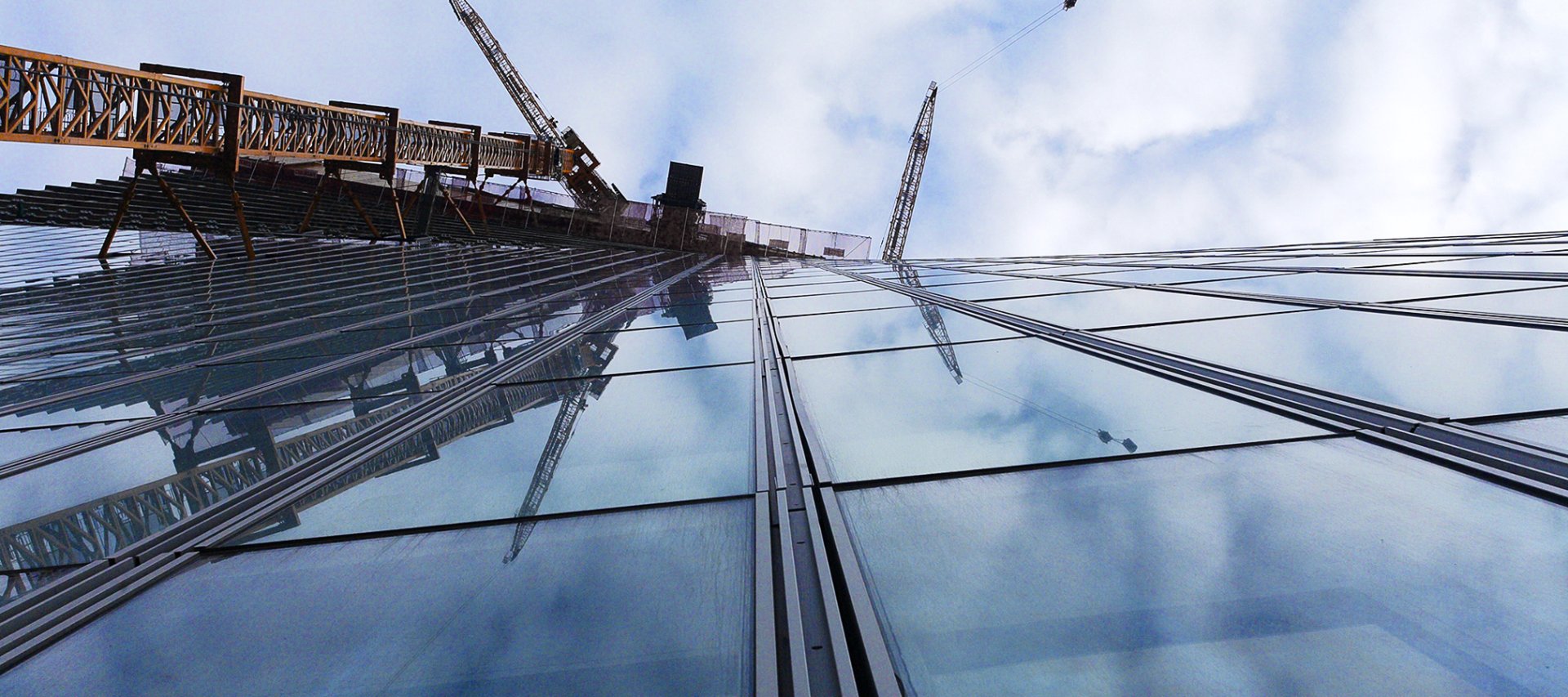 project description

The new building for the European Central Bank is located on the site of the listed Großmarkthalle in the East of Frankfurt.
The striking 180 m high double towers are unified to an entity by a full height glass atrium. The listed market hall "Großmarkthalle" experienced a restoration process as part of its integration within the construction of the new ECB towers. The impressive 220 m long and 52 m wide brick building from Martin Elsaesser houses the lobby, conference rooms and the press centre. A "clamp" cuts the roof zone diagonally in order to define the new main entrance in the North and provides a transfer to the tower in the South.
structure

The load-bearing exterior walls of the double towers transfer the vertical loads into the raft-pile foundation. The concrete cores provide lateral stability to the individual towers and resist the horizontal forces from the partially tilted façades. The numerous ramps, bridges and slabs connecting both towers create an entirely effective structural system.
The two solid towers of the double highrise are structurally linked via large steel struts and reinforced concrete slabs across the 20m wide atrium space. The atrium façades on the East- and West side span between the two towers and create a glass surface connecting to the glazed roof.
façade

The East façade is approximately 42 m wide at its base and 21 m at the top. Due to the twisted geometry of the towers, a part of the East façade is inclined. The West façade spans approximately 23.5 m at its top and bottom.
The free-standing steel structure of the atrium façades is designed as a fully welded grid, which is fixed horizontally and vertically sliding at the towers. Via a kink within the two façades horizontal, differential movement of the two towers can be accommodated. The self weight of the whole façade is transferred to the groundfloor slab and a downstand beam below. In addition, windpins, which are connected to the towers, prevent excessive deformations of the façades in case of wind load.
Data
Owner:
ECB European Central Bank
Client, Architect:
Coop Himmelb(l)au
Competition: First prize (2003)
Completion: 2014

GFA: 184,000 m² | Gross volume: 766,000 m³ | Height North tower: 185 m | Height South tower: 165 m | Height incl. communication mast: 220 m | Parking spaces: 650
Service:
Structural engineering
Design of the atrium façades
Awards
Preis des Deutschen Stahlbaues 2016, Recognition
Best Tall Building Europe 2016, Finalist
Deutscher Ingenieurbaupreis 2016, Recognition
DAM Preis für Architektur 2015: Die 22 besten Bauten in/aus Deutschland 2015, Recognition

Publications
Architektur und Tragwerk in symbiotischer Beziehung - Der Neubau der Europäischen Zentralbank in Frankfurt
K. Bollinger, C. Brensing, M. Grohmann, M. Stracke, in: Ingenieurbaukunst 2016, Ernst & Sohn, Berlin, 2015

The European Central Bank, Frankfurt, Germany
Alexander Berger, Manfred Grohmann, Klaus Bollinger, in: Cement, Special edition fib Symposium 2017, Maastricht, S. 118 - 121


Press
Aufstrebendes Fachwerk: Europäische Zentralebank, Frankfurt a. M., in: DBZ 11, 2013, S. 66 - 69
Europäische Zentralbank, Frankfurt, in: Ausgezeichneter Stahlbau 2016, hrsg. vom bauforumstahl, Callwey Verlag, S. 28-31, München, 2016