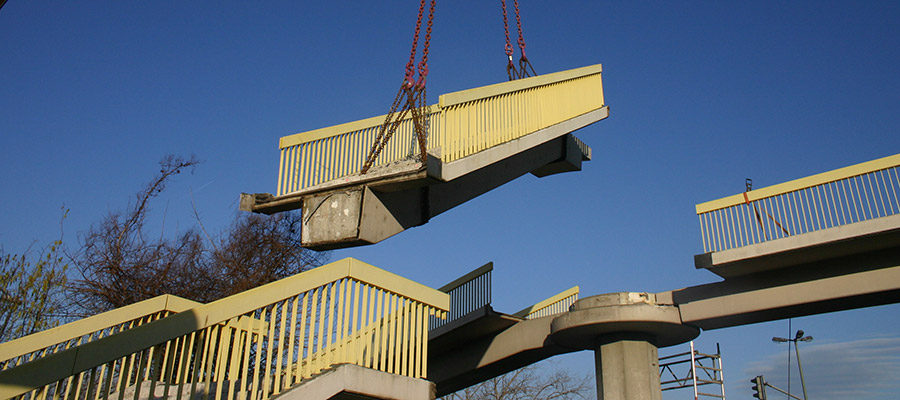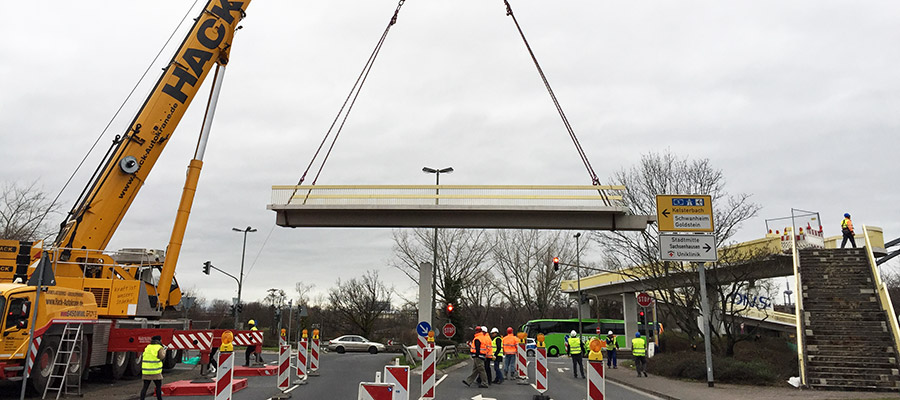 project description

The pedestrian bridge located in the Niederrad district of Frankfurt am Main, crosses the Lyoner Straße and the Niederräder Ufer. It is a system bridge made of prefabricated prestressed concrete bridge and ramp elements (slab beams with box girders) as well as prefabricated reinforced concrete stair elements (slab beams), which are supported on foundations, intermediate supports or node supports with attached support discs made of reinforced concrete.
Due to considerable structural damage, the footbridge had to be partially dismantled. In the first step, the step ramp and the stairway were dismantled. The second step involved the dismantling of the bridge over Lyoner Strasse in two sections.

In terms of health and safety performance, the protection of third parties was of particularly high importance. For example, pedestrians, who could continue to pass the bridge in the direction of Niederräder Ufer throughout the demolition work, had to be protected. Also, car traffic under the bridge was not to be impaired, especially during the core drilling.
The short construction period of the measure and the ongoing car, bicycle and pedestrian traffic made the measure particularly demanding in terms of safety.
Data
Client:
ASE Amt für Straßenbau und Erschließung
Completion: 2016

Service:
Safety management