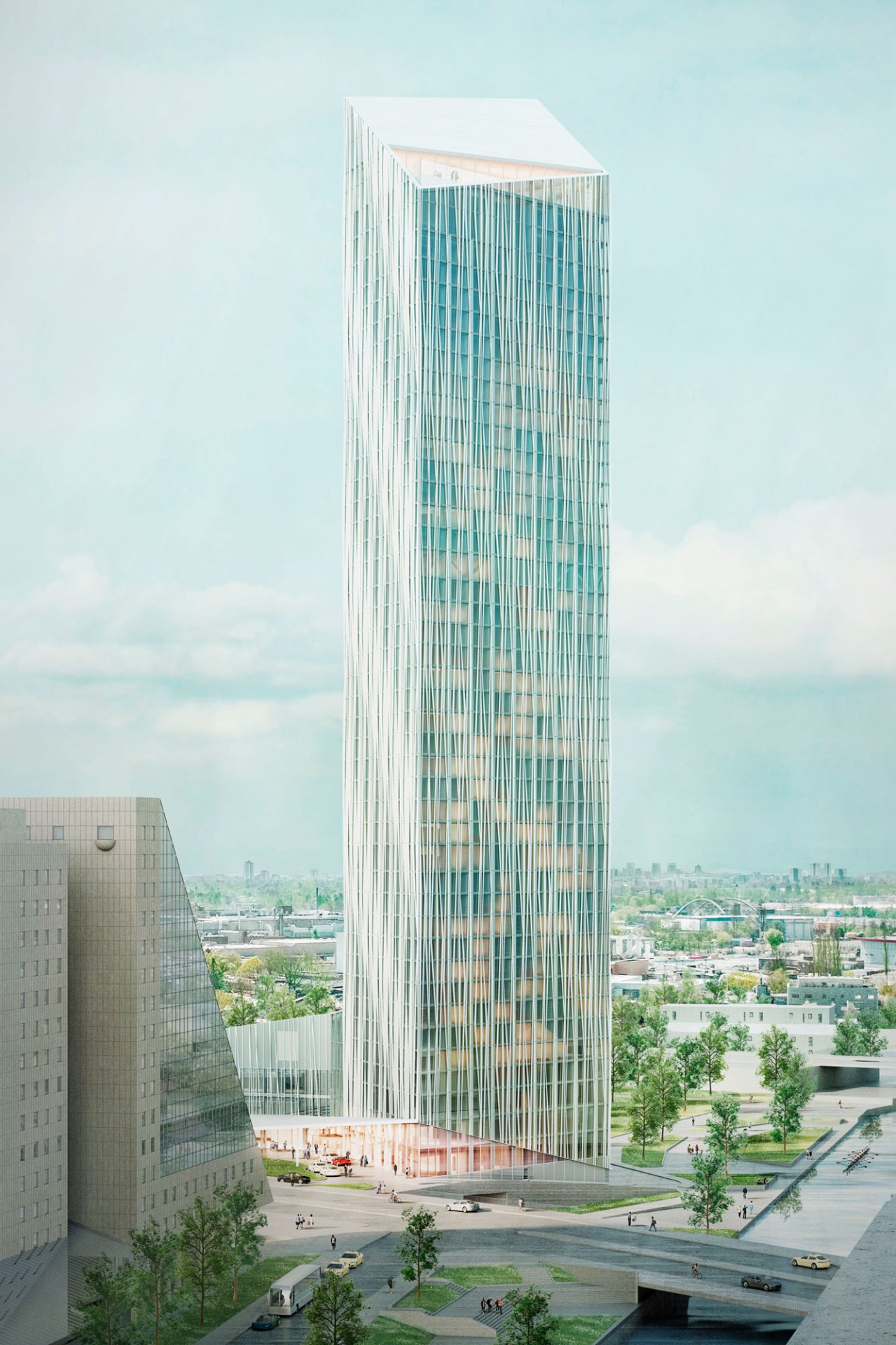 © ©Barkow Leibinger
© Barkow Leibinger
Om prosjektet

Located at the edge of Berlin's suburb Neukölln, the 175 m tall Tower will become the new landmark and the tallest high-rise of the city. Completion is scheduled for 2024.
The design comes from the architectural firm Barkow Leibinger and Bollinger+Grohmann Berlin is in charge of structural and façade engineering as well as building physics.
Fasade

The total area of the various façades sums up to approx. 42,000 m². The concept is to develop a system of façades that react to the differing needs of these buildings but still creating a family of façades in a corresponding architectural language. The highly glazed façades will meet high energy standards while creating spectacular views for the guests. A series of external fins providing additional external sun shading creates an additional layer of texture to the façade, giving it its unique appearance.
Sound protection plays a key role in the design phase due to a motorway to be built in the vicinity of the complex.
konstruksjon

The proposed gravity structure for the hotel tower comprises a flat slab system supported by concrete columns and core walls. The columns shall be arranged to allow a flexible and efficient floor space and a continuous and direct load transfer. The foundation for the high-rise tower shall be a combined pile raft foundation (CPRF).
The multiple use tower podium is designed as a conventional reinforced concrete structure. The atrium roof structure will be constructed of steel beams and girders covered by point supported glass panels.
Data
Oppdragsgiver:
Estrel Berlin
Arkitekt:
Barkow Leibinger Architekten
Prosjekteringsoppstart: 2019
Byggestart: 2021

BTA: approx. 54,000 m² | Høyde: approx. 176 m | Façade surface: approx. 42,000 m²
Tjenester:
Byggeteknisk prosjektering, Fasade prosjektering, Bygningsfysikk