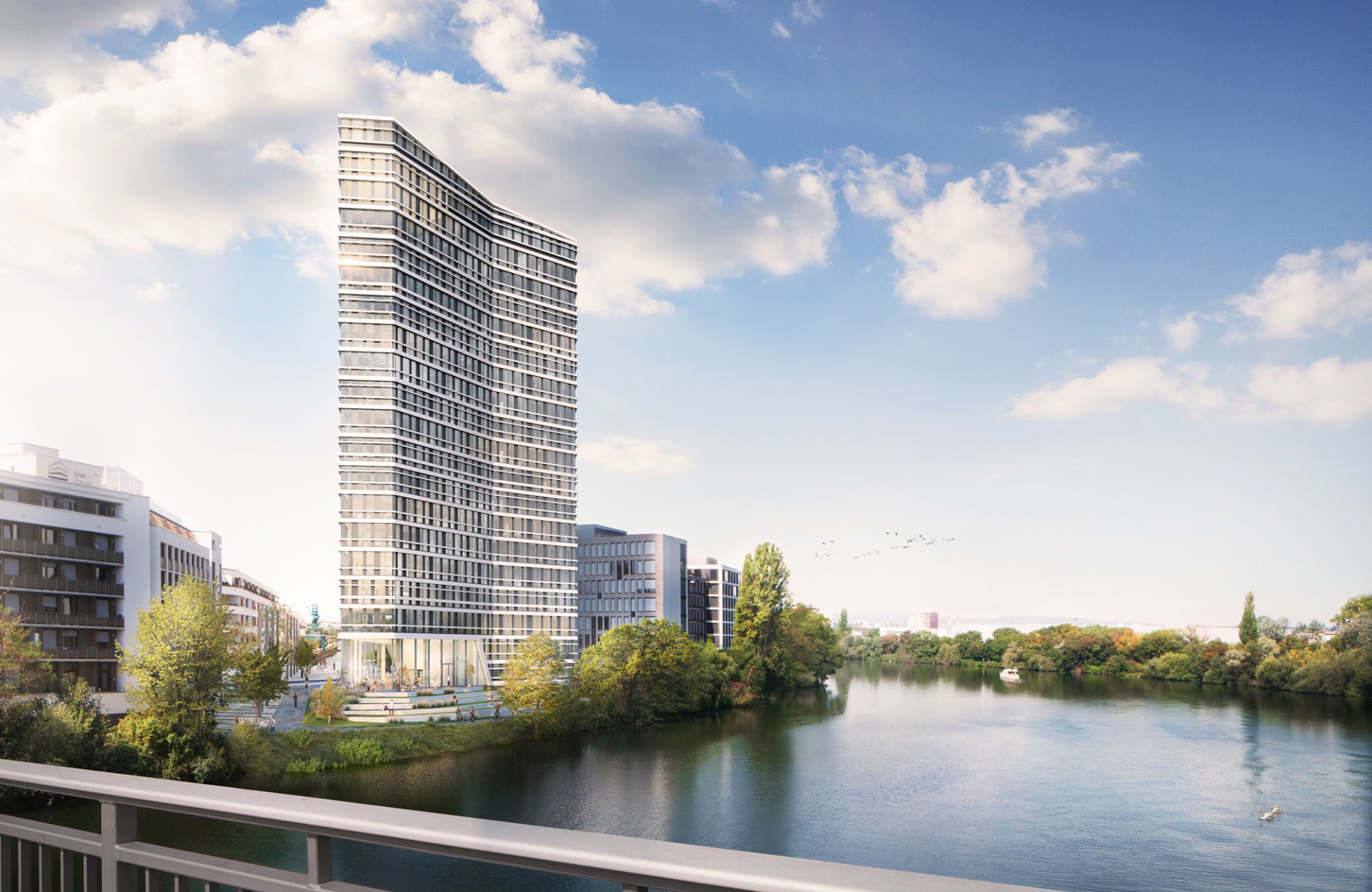 © eyemaxx Real Estate Group
© eyemaxx Real Estate Group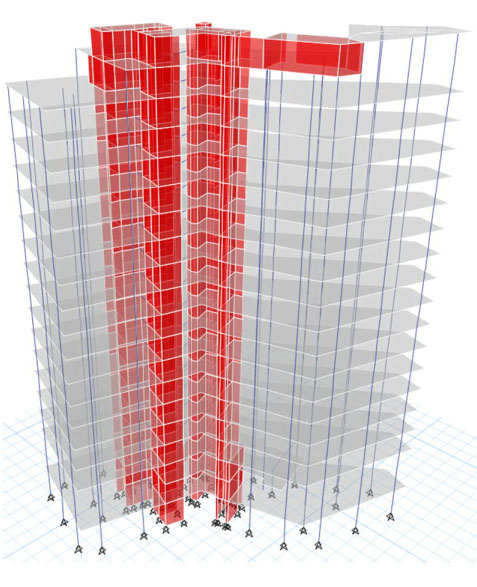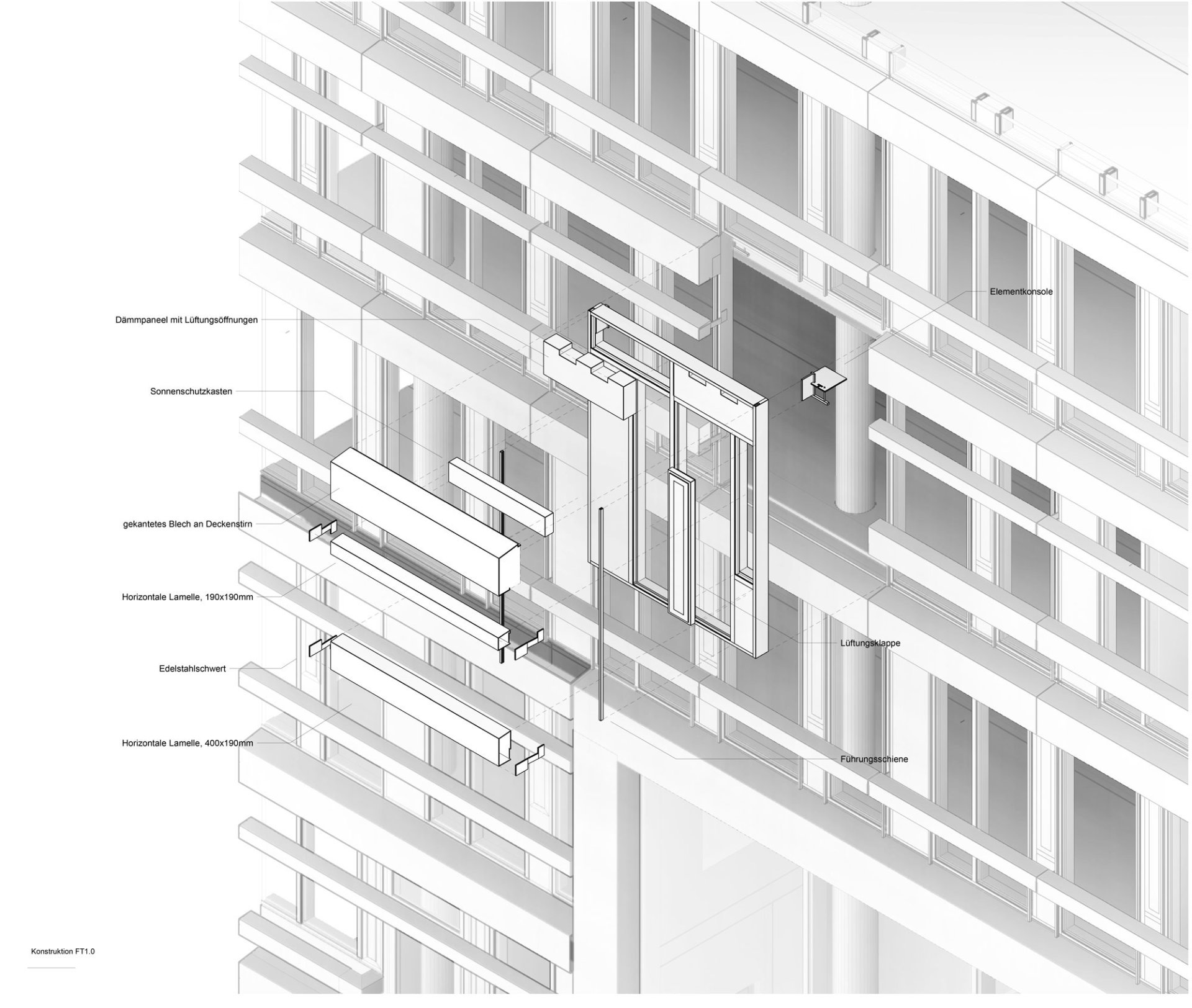 Om prosjektet

The up to 70-metre-high high-rise with 18 storeys is to be built in the newly developed district at Offenbach harbour as an architecturally impressive office tower with gastronomy areas in the heart of the Rhine-Main region in Germany.
konstruksjon

The structural design provides for solid construction with flat slabs on the ground floor and upper floors and a reinforced concrete flat slab above the basement. The building is reinforced by the continuous high-rise core consisting of the staircase, lift shaft and shaft walls, which run through to the foundation with a total height of approx. 70m. A combined pile and slab foundation is planned for the high-rise building.
Fasade

The new building will consist of a building structure with multiple bends and its long side is oriented along the river. It will have a horizontally structured façade that supports the sculptural effect and makes the bent edges visible. The façade is planned as a storey-high element façade with fixed glazing. This consists of thermally separated aluminium profiles so that the entire house has a continuous insulation level. In addition, the façade has optimal features due to the fast disassembly, uncomplicated separation of the components and a high degree of recyclability of the materials.
The façade system is largely based on an element construction method with two typical façade modules, each of which is offset from one storey to the next and thus significantly shapes the façade. In addition, there is a horizontal band at parapet height on each floor and another "lintel band" on every second floor, which gives the façade the appearance of a two-dimensional volume.
Data
Oppdragsgiver:
eyemaxx Real Estate Group
Arkitekt:
Meixner Schlüter Wendt
Prosjekteringsoppstart: 2019

BTA: 16,800 m² | Areal façade: 7,500 m²
Tjenester:
Byggeteknisk prosjektering, Fasade prosjektering, SHA-koordinator