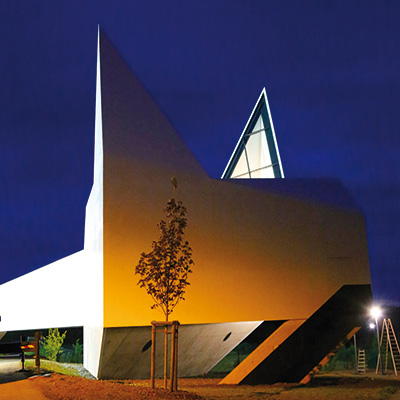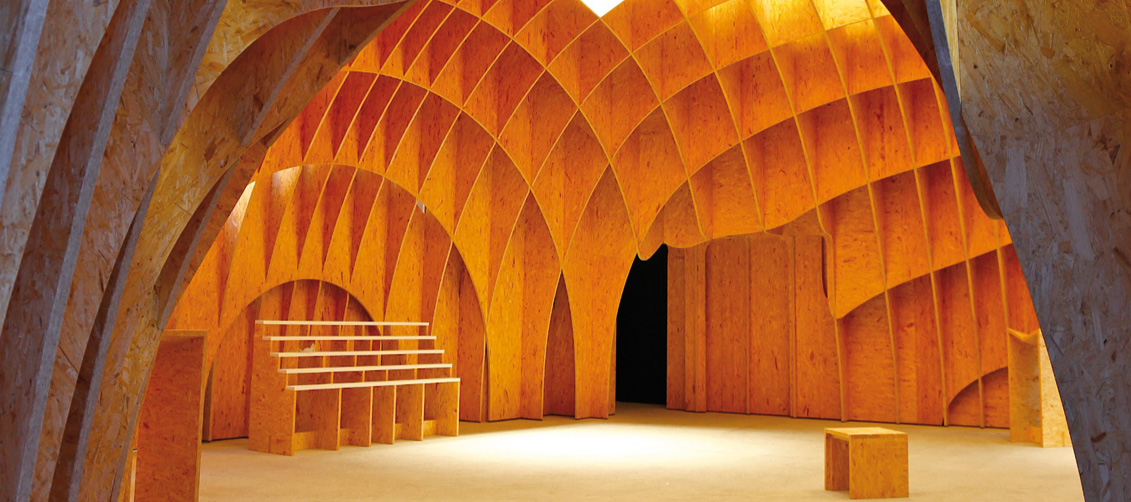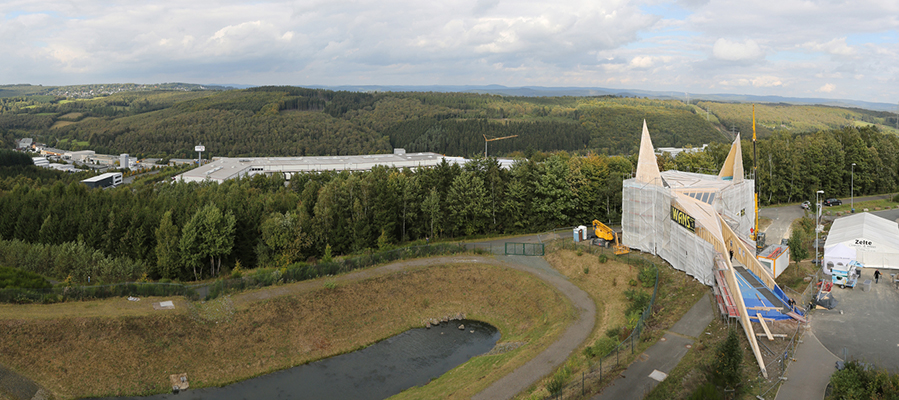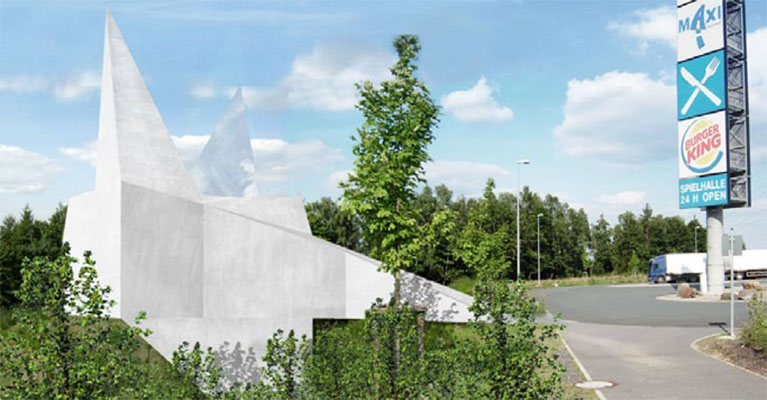 project description

The ecumenical Autobahnkirche (church at a mortorway rest stop) in Siegerland, Germany consists of the church itself and an access bridge. The design is characterised by its abstract external form and a spacious interior. The shape of the inside room is derived from a spherical volume. Through especially modeled shafts the daylight is indirectly routed into the room and thus supports the room's mystical character.
structure

The substructure, a mezzanine which houses the mechanical equipment, tapers along the sloping walls towards the foundation. Unlike the main structure which is a lightweight timber construction, the substructure is solely made of reinforced concrete.
The access bridge, also a timber structure, is spanning between the church structure on one side and a conventional abutment on the opposite side.
Data
Client:
Autobahnkirche Siegerland e.V.
Architect:
schneider+schumacher, Frankfurt, Germany
Completion: 2013

Total area: approx. 240 m² | Gross volume: 2,050 m³
Service:
Structural engineering, Building physics
Light studies
Awards
ICONIC AWARDS 2013, Category: Best of Best Architecture
DAM Preis für Architektur in Deutschland 2013, Award

Press
Autobahnkirche in Wilnsdorf, in: DETAIL, 2014, 1/2, S. 53
Berührende Rast, in: AIT, 06/2013
Wo Beten noch helfen soll, in: FAZ, Frankfurter allgemeine Zeitung, 14.08.2013, S. 27
Gott muss Fernfahrer sein, in: MODULOR, 07/2013, S. 50 - 58

Exhibitions
Die fünfte Ansicht.
Atrium des neuen Hans-Sachs-Hauses, Gelsenkirchen (Deutschland), 20.11.2014 - 18.12.2014