© hutterreimann + cejka Landschaftsarchitekten
© hutterreimann + cejka Landschaftsarchitekten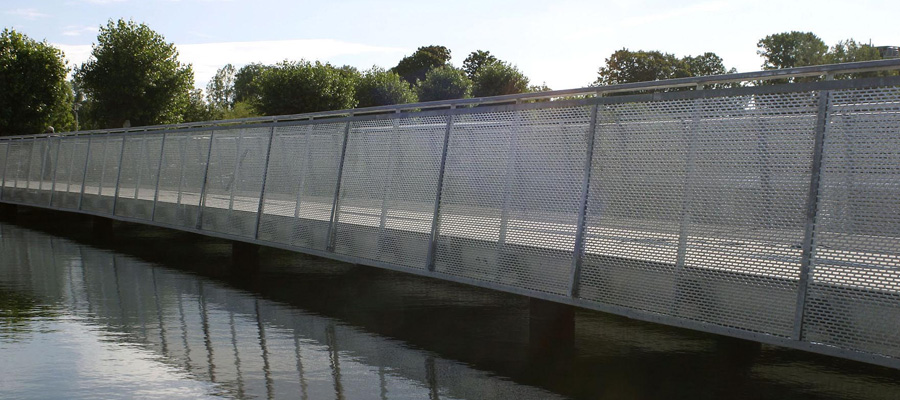 © hutterreimann + cejka Landschaftsarchitekten
© hutterreimann + cejka Landschaftsarchitekten
© hutterreimann + cejka Landschaftsarchitekten
project description

The seven fish ponds were the starting point and the backbone of the German "Landesgartenschau". The "Fishwalk", a jetty running from east to west, connects the ponds with each other. It is anchored into the pond bottom by six and a half meters long driven steel piles. The bridge serves as the key promenade of the garden exhibition. It is comprised of a steel structure, mastic asphalt and steel railings.
Along the "Fishwalk" water stations, so-called "Follies", are arranged as accessible architectural walkways. These are also mainly steel structures, however, the timber floors and benches indicate them as areas of retreat and recreation.
structure

The second passageway and alternative to the "Fishwalk" constitutes the curving promenade. An integral part of this is a 55m long by 3m wide foot- and cycling-bridge. The so-called "Überflieger" is made of a reinforced concrete slab supported by circular steel columns. These are placed alternatingly and inclined by 17% against the vertical.
Data
Client:
City of Wernigerode, Germany
Architect:
A_lab Architektur
hutterreimann + cejka Landschaftsarchitekten
Completion: 2006

Length high-flyer: 55 m | Width high-flyer: 3 m
Service:
Structural engineering
Awards
Architekturpreis Sachsen-Anhalt 2007, Award