© Filip Dujardin
© Filip Dujardin
© Filip Dujardin
© Filip Dujardin
© Filip Dujardin
© Filip Dujardin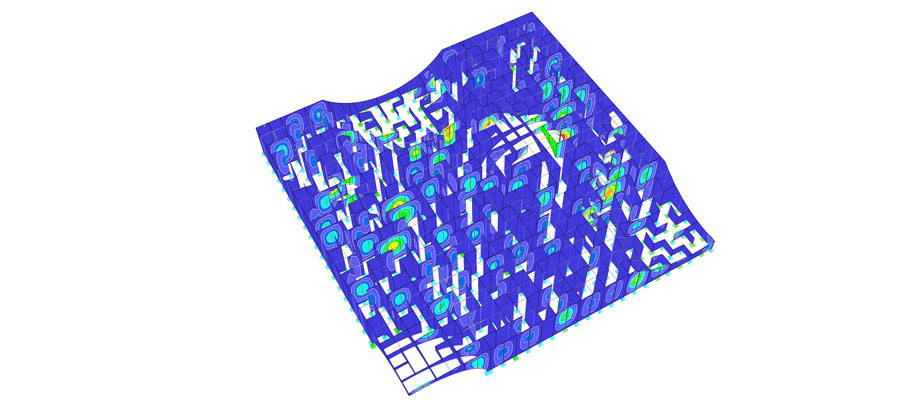 project description

The Labyrinth is installed at the C-mine arts center in Genk, Belgium and created by multidisciplinary design practice Gijs Van Vaerenbergh. The industrial-looking installation measures 37.5 by 37.5 metres and consists of 1 kilometre of walls (186 ton), made out of steel plates that are 5 mm thick, 1,5 m large and 5 m high.
A series of voids were formed using Boolean transformations, which involve intersecting three-dimensional volumes in a digital modelling programme and using their edges to cut shapes out from each other. Shapes including spheres, cylinders and cones have been cut out from the box-like structure's walls, forming larger open spaces within the maze and gaps in the vertical surfaces.
structure

Bollinger+Grohmann accompanied the architects since the earliest concept design phase until the construction, exploring multiple options and technical solutions. The undertaken researches and exchanges on the use of different materials (wood, prefabricated corrugated iron, thicker steel plates, etc.) led to the final draft. The office was in charge of the structure, the verification of the distortion, stress and the overall stability as a result of various wind loads cases and also for the development of customized technical solutions for welding, fixing steel plates to the ground, and for stiffening elements.
A series of thin steel tubes connect together plates heads for a better horizontal overall rigidity; stiffeners consist of flat steel of 10 cm wide and 5 mm thick, which are particularly required to reinforcing plates heads in cut-out areas.
Data
Client:
City of Genk, Belgium
Architect:
Gijs Van Vaerenbergh Architecten bvba
Completion: 2015

Height: 5 m | Surface area: approx. 1,406 m²
Service:
Structural engineering
Awards
Dezeen's top 10 design installations of 2015, Recognition

Press
Un labyrinthe d'acier à la géométrie complexe, in: Les cahiers techniques du bâtiment N°345, 10/2015, S.11

Related Links

more projects referring to:
> Steel